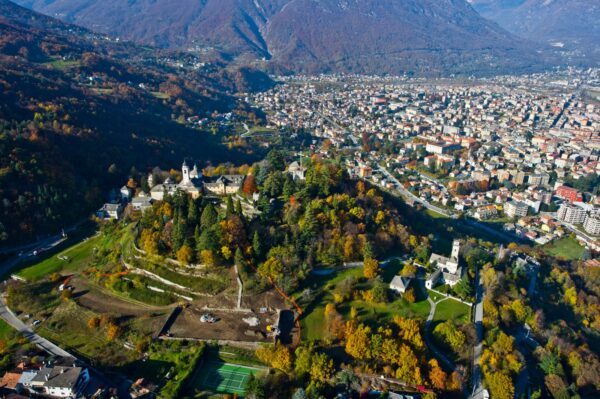 Credit Foto Studio RDS
VENUE - PRACTICAL INFO
Mellerio Rosmini College - Antonio Rosmini Street, 24 - 28845 Domodossola (VB) Piedmont - Italy
Mellerio Rosmini College is a building of great artistic and architectural value houses the Rosminian Museum of Natural Sciences, with its precious zoological, geological and botanical collections, a library with thousands of classical and ancient volumes, a small theater and a chapel in neoclassical style. Outside there are also large green areas and sports facilities.
The College is 200 mt. feet near the center of Domodossola, a short walk from the ancient Market Square in the middle of "Borgo della cultura", inside which you can visit the beautiful medieval square, Palazzo San Francesco and besides Palazzo Silva Palazzo di città. In 10 minutes walk you can visit Monte Calvario which is UNESCO site.
You can reach the Mellerio Rosmini College of Domodossola by:
CAR
If you are coming from Milan, follow direction A8 Lakes Highway and take the A26 towards Gravellona Toce - Domodossola exit - follow the signs to Sempione Switzerland
If you are coming from Genova, follow the A26 direction Gravellona Toce - Domodossola exit - follow signs for Sempione Switzerland.
TRAIN
The Domodossola international railway-station is located 500 meters from Mellerio Rosmini College.
Domodossola is connected with the Italian train line of Milano http://www.trenitalia.com/ and it's 1,5 hours distance from Milano Centrale Station.
Also is connected with Swiss train line of Brig (CH) http://www.ffs.ch/home.html
PLANE
Milano Malpensa Airport (MXP) is located at just 45 minutes!.
Shuttle service connects 5/6 times per day the Milano Malpensa Airport to Domodossola (90 km), for reservation click on the following link https://www.comazzialibus.com/ComazziAlibus/ 
---
ACCOMMODATION
For further information, download this practical info-sheet