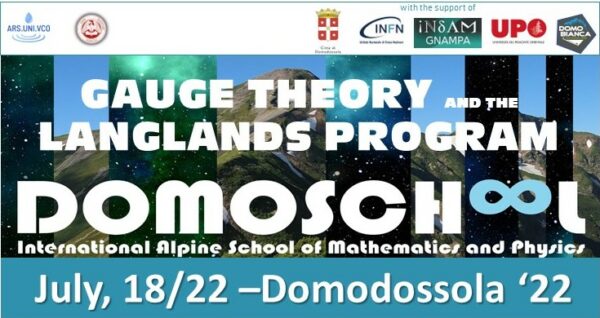 2022 EDITION - GAUGE THEORY and the LANGLANDS PROGRAM
Domodossola, Mellerio Rosmini College, from 18th to 22nd July 2022
REGISTRATIONS are OPEN within July 16th 2022
It is mandatory for participants to be able to show a

valid document certifying vaccination or recovery from Covid. 19 (in UE

super green pass every day of lessons)
Anyone with a scientific background or interest in the topics of the school is warmly invited to participate. Due to the covid-19 restriction, attendance will be limited to a maximum of 35 participants. In the event of an excessive number of requests, priority will be granted to the first applications received.
We are looking forward to welcome you in Domodossola!
REGISTRATION FEE: Euros 220,00.
EARLY REGISTRATION FEE (closed): Euros, 195,00 - for registration and due payment by bank transfer within May 20th 2022
The due fee includes lunches and coffee breaks in the lecture days, and it partially covers the costs of general organization.
The registration can be paid CASH at the venue or by BANK TRANSFER (the bank account details are indicated in the registration form).
Please indicate the method of payment in the registration form and send it to the e-mail address domoschool@arsunivco.eu.
For late-registrations please send an e-mail directly to domoschool@arsunivco.eu In case it would be possible, we will be very happy to welcome you.
---
SHORT-TALKS submissions are open within July 11th 2022
We have a limited number of TEN slots for 20-minute short-talks reserved to University and PhD students and young Researchers.
Titles and abstracts should be sent to domoschool@arsunivco.eu for consideration by the scientific committee.
Applications for short talks are CLOSED, all slots are completed
---
ACCOMMODATION
Accommodations have to be booked directly by participants.
Booking within June 17th 2022  in the affiliated structures will be able to take advantage of a lower agreed cost/discount for the period 17/23 July 2022.
When contacting the following host structures, it is necessary to refer to the  DOMOSCHOOL CONVENTION - 2022 edition:
---
EXTRA ACTIVITIES
GUIDED TOUR on Wednesday July

20th

 OPTIONAL
DOMOBIANCA 365 – Moncucco peak and Baita Motti
9.00  AM: meeting point at Rosmini College
9.30 AM: shuttle to DOMOBIANCA 365 – ALPE LUSENTINO (1.000 mt on Sea Level)
10.30 AM: arrive at LUSENTINO – a guide will drive you by feet at Moncucco PEAK (2.000 mt on Sea Level) with a walk in the woods. For the ones who are not trained and willing to walk to the top it is possible to get chairlift near to the top and get back always with chairlift. If you just want to relax you can wait at BAITA MOTTI for the lunch
1.00/1.30 P.M. BAITA MOTTI - Lunch togheter with local foods (polenta, formaggi, salami)
4.30/5.00 P.M. Shuttle to  Rosmini College
the Journey will be held also in case of  bad weather conditions, you will be drive at Baita Motti for a typical mountain bad weather day 
Registration for the extra activities by the participants at Domoschool will be available directly at the secretariat venue in Domodossola.